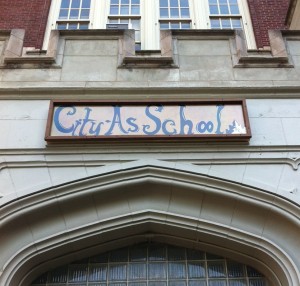 City-As-School High School students present recommendations on the future of NYC education at their
"Performance-Based Education" Conference
Students from the "Economics and Education" class at City-As-School High School helped spearhead a school-wide "Performance-Based Education Conference" on Friday January 17th where they highlighted their recommendations for the future of the public school system. Laura Ruiz, 16, a student at City-As and one of the organizers said, "We want to show, as a City-As-School community, to Mayor De Blasio how we believe a school should run."  Students demonstrated what performance-based education looks like through both large and small-scale performances held in the auditorium and various classrooms within the school. During the event there were workshops in different classrooms. These presentations are representative of the performance-based model that City-As-School follows which includes portfolio presentations and hands-on internships throughout the city.
Natalie Sexton, 16, said this about her feelings towards alternative education: "I believe that alternative education is important because at my old school I had knowledge drilled into me and possessed no agency over my own education. Schools like City-As-School provide students with the ability to advocate for themselves and choose their own educational path." Students also gathered signatures on petitions, calling for the mayor to implement their educational policy recommendations.  One hot topic was school discipline and restorative justice. Tyrieke Chandler, 18, talked about the need for changes in the discipline code. He recalled his experience in his former school, saying, "I believe this is important because I g
ot suspended for defending myself. I feel this is unfair and that the discipline code should be changed." Thalia Vasquez, 18, described situations at her previous high school where, "If the school thought a student was smoking the prinicipal would suspend them up to a month."
Another issue students raised was Mayor Bloomberg's emphasis on standardized testing. Shanice Greene, 18, wants to tell the mayor that "there should be an alternative for every school dealing with standardized testing."
The four-point program on the students' petition included:
Give alternatives to standardized testing
Increase the use of performance-based education
Replace most suspensions with social intervention
Provide adequate funding for the school system.